nosunmusic - booking and promotion agency
UPCOMING EVENTS
Torna il duo "nomade" più pesante d'America! Da ben 23 anni in tour "permanente", Edgar e Gazelle vi aspettano al Dal Verme, per gonfiarvi i timpani con il loro sludge contaminato.
Ad aprire questa delicatissima serata, i sobri ed eleganti Nineleven.
Read more
BANDS: JUCIFER, NINELEVEN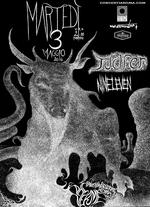 traffic
Dopo una pausa di due anni dai tour in Europa e Nord America con band del calibro di Moonspell, Marduk, Swallow The Sun, Antimatter e Saturnus e dopo essersi ormai affermati nel panorama gothic doom internazionale, i romani The Foreshadowing tornano con il tanto atteso quarto album "Seven Heads Ten Horns" che uscirà il 22 aprile per Cyclone Empire Records. I capitolini presenteranno gran parte dei nuovi brani in sede live e una selezione dei precedenti album in uno show che si preannuncia intenso come sempre!

Come special guest della serata ci sarà una delle migliori realtà progressive metal romane ...
Read more
traffic
I Nerodia presenteranno i brani dal nuovo full length "Vanity Unfair", in uscita ufficialmente i primi di giugno 2016 su Revalve Records, ma in anteprima al release party!
Compagni di massacro della serata saranno due band eccezionali:

i Grimness, fuori dalle scene da troppo tempo, per la prima volta di nuovo sul palco, che presenterano la ristampa delo storico album "Increase Humanity Disgust", con bonus tracks ed una nuova veste grafica ad opera del "Maestro del Male" Roberto Toderico Art.

Gli Helslave, giovani e violenti portatori sani di death metal svedese anni '90 e compagni di roster dei Nerodia.
Read more
PAST EVENTS
traffic
Tornano a Roma i LizZard!
Dopo aver suonato come opening-act dei Soen, lo scorso anno sui palchi di mezza Europa ...
Read more
traffic
traffic
Dopo un lungo periodo di inattività, finalmente una delle band storiche del panorama metal romano è tornata, un'assenza mai colmata ...
Read more